About Us
Atmosphere Radio is the new name for Mango Vibe which was established in 2015 as part of experimental small scale DAB radio trial in Portsmouth. Our friends at solent wireless have been great and it's been fun being part of this exciting experiment in radio. We have recently branched out and expanded our coverage to include Brighton as well. But of course the wonders of the internet means it's possible for everyone in the UK to enjoy Atmosphere Radio.
Atmosphere Radio plays a variety of electronic dance music as well as classic dance tracks in our specialist shows. We are constanly looking to improve things, tinkering with the playlist to make it sound fabulous as well as bringing in great guest DJs
Don't take our word for it though - click that big button above and listen for yourself!
How to listen
Atmosphere Radio is available on DAB in Brighton and Portsmouth.
We also broadcast across the UK online. But you knew that already right? You're here after all! Just press that big listen button at the top, silly!
Apps
Atmosphere embraces all things digital so you can currently find us on the following platforms, more coming soon!
Apple TV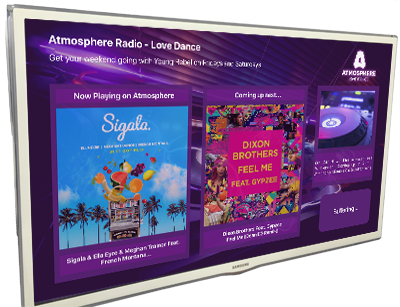 Our DJs

Suzi Martin
Brightening up your morning every day from 8am. Suzi has the best music to kick start your day.

Andrea Fox
Every Saturday from 8am Andrea brings you the best laughs and bangers, including The Dance Years at 10am.

Caroline Verdon
Whether you're in bed or doing the chores, Caroline has the Sunday soundtrack from you and The Dance Years from 10.

Robbie Harrison
Weekdays from 1pm Robbie has the best tunes to help you though the day. Then on a Sunday from 7pm he goes back to the Old Skool with the best anthems from the past 30 years.

Neal McClelland
Nocturnal with Neal McClelland is a journey of cutting edge electronic music every Friday from 10pm.

Graeme Park
Long Live House with Hacienda legend Graeme Park every Sunday from 10pm.



Robin Schulz
EDM from the continent every Saturday from 10pm from the DJ who brought us Sugar.